Intel® Nervana™ and O'Reilly co-presented the inaugural Artificial Intelligence Conference in San Francisco on September 17th. The conference spotlighted keynotes from luminaries such as Andrew Ng (Coursera), Peter Norvig (Google), Carlos Guestrin (Apple), Michael Jordan (UC Berkeley), Jia Li (Google) and Naveen Rao (Intel Nervana). Uber, Apple, Nvidia, IBM, Facebook, Amazon, Microsoft, Google, and Baidu[1] were among the many companies to host technical sessions. IBM Watson, Microsoft, and Teradata were key sponsors of the conference. Virtually every company in the space was represented through speakerships and/or a booth presence at the crowded expo.The sold-out conference validated artificial intelligence as the next technological revolution and highlighted the need for every industry to define its own AI strategy.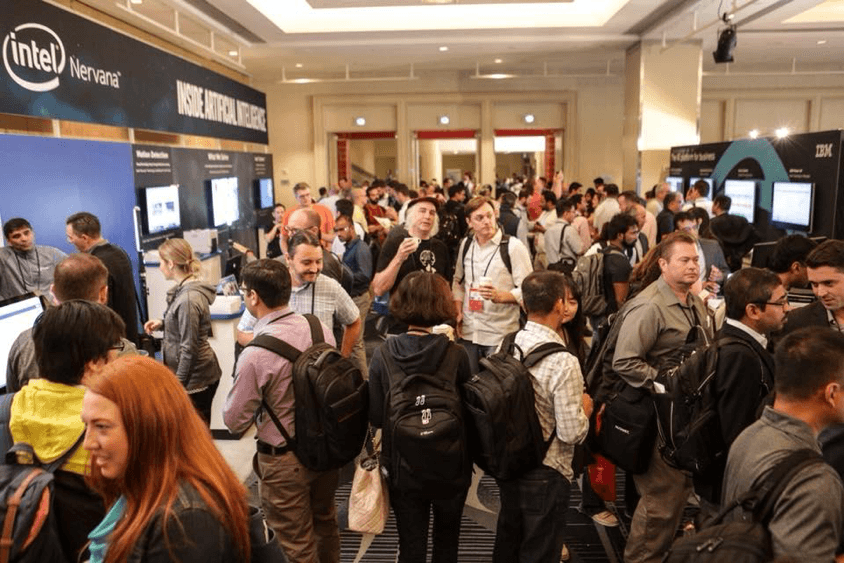 Intel led in participation with two keynotes, seven technical sessions, an expansive Intel Nervana booth experience, and Intel Nervana AI Academy events. Intel showcased its comprehensive AI product portfolio with scalable performance for the widest possible range of applications and unveiled new ways its working with developers and data scientists to boost AI innovation and accessibility.
Powering AI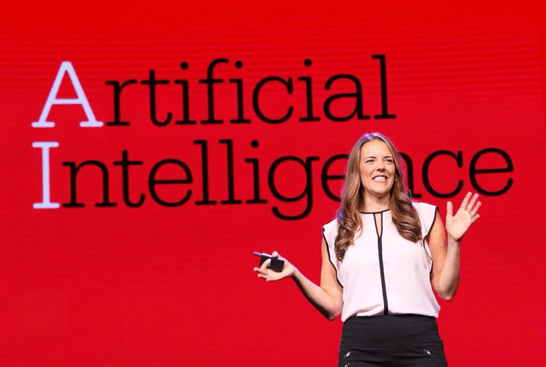 Intel's Lisa Spelman, Vice President and General Manager of Intel® Xeon® products and marketing in the Data Center Group,delivered a keynote on fast forwarding AI in the data center with Intel® Xeon® Scalable Processors and how enterprises can scale AI efforts with BigDL on industry standard hardware already in deployment. She also spotlighted Project Brainwave, Microsoft's new deep learning platform, as a major leap forward in both performance and flexibility for cloud-based serving of deep learning models. Microsoft selected Intel® Stratix® 10 FPGAs to ensure the system processes requests as fast as it receives them, delivering 39.5 teraflops of achieved performance at ultra-low latency of less than one millisecond.
Spelman also shared two new Intel offerings that will accelerate AI development and innovation. The first, Intel® Nervana™ DevCloud, will offer free compute cloud access powered by Intel® Xeon® Scalable processors. The second, Intel's collaboration with Tata Consultancy Services (TCS) to develop the Artificial Intelligence Center of Excellence
(CoE). The CoE will help developers, academics, and startups propel their AI solutions from concept to implementation by collaborating with academic communities to develop new AI algorithms, support AI research projects, and enhance teaching content in classrooms. Through the center, Intel Nervana AI Academy members will have access to machine learning and deep learning frameworks, tools, and libraries optimized for Intel Xeon Scalable processors, Intel® Xeon Phi™ processors, and Intel Nervana AI technologies.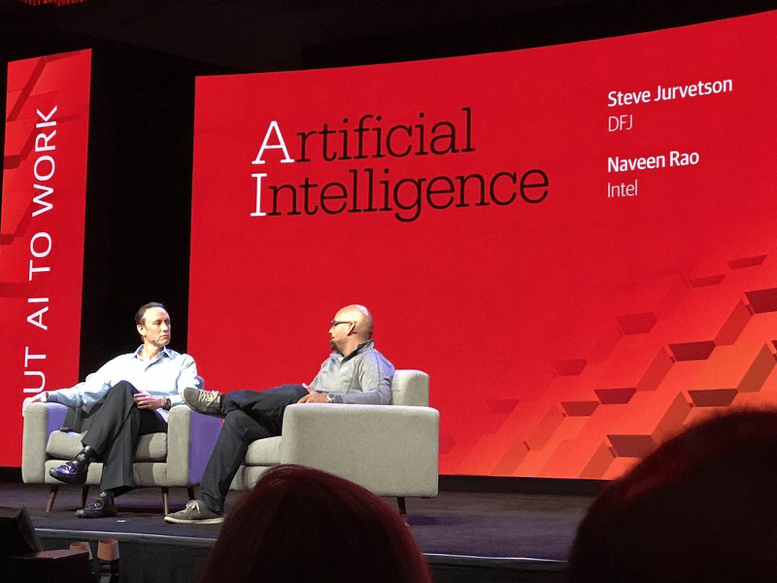 Also in alignment with promoting AI development, Intel disclosed its $1 billion dollar investment in AI startups, companies, and organizations via Intel Capital.
Intel's Naveen Rao, Corporate Vice President and General Manager of the Artificial Intelligence Products Group, joined a fireside chat with venture capitalist Steve Jurvetson from Draper Fisher Jurvetson (DFJ). Rao and Jurvetson shared an exciting conversation about motivations behind recent advancements, VC investment strategies, and Intel's presence in the AI space. Intel was referenced as a "purveyor of computation" as Rao dove into Intel Nervana's full AI product portfolio from framework optimizations to AI hardware technologies.
Sharing Our Expertise
To truly advance AI at the enterprise level, it is essential to have conversations directly with the technologists responsible for their organizations' AI strategy deployment. Intel hosted several workshops and intimate "Meet the Experts" sessions to share knowledge and best practices for bringing AI to life:
Gary Brown, Product Marketing and Strategic Partnerships for Movidius, discussed AI-powered IoT devices and new applications in machine vision and visual intelligence.
Yinyin Liu, Head of Data Science for Intel's AI products, discussed the latest NLP advances, resources, and enterprise use cases using the Intel Nervana Platform.
Jason Knight, AI Products Senior Technology Officer, shared an overview of Intel Nervana Graph, a deep learning-specific compiler designed to enable maximum performance in a wide variety of use cases on a broad spectrum of hardware platforms.
Banu Nagasundaram, Product Marketing Engineer with Intel's Data Center Group, and Akhilesh Kumar, Principal Engineer on the Data Center Processor Architecture Team, discussed the architecture of the latest Intel Xeon scalable processor and outlined the changes from previous generations. They also highlighted the design features that favor AI workloads.
Bill Jenkins, Senior Product Specialist, explained Intel's deep learning accelerator library, which offers a variety of primitives and architectures highly optimized for FPGAs and allows seamless integration into the Intel ecosystem.
Jason Dai, Senior Principal Engineer and Chief Architect, and Ding Ding, Software Engineer from Intel's Big Data Group, offered an overview of BigDL, the open source distributed deep learning framework mentioned in Lisa Spelman's keynote.
Hanlin Tang, Intel AI Products Algorithm Engineer, demystified the process of building AI algorithms across multiple verticals and shared tips and tricks for designing models. He also gave an overview of the Intel Nervana deep learning stack, which accelerates the iteration cycle for data scientists.
Bruce Horn, Intel Fellow and Saffron CTO, explores Intel Saffron's cognitive approach, which provides one-shot learning using associative and episodic memories.
Intel Nervana Academy DevJam and Student Ambassador Forum
Some 500 AI developers, data scientists and students assembled for an evening of networking and training in AI solutions powered by Intel® technologies at the latest Intel® Nervana™ AI DevJam and Student Ambassador Forum.  Both events were held September 18 at The Village in San Francisco in conjunction with the O'Reilly AI Conference.
Hosted by Intel® Nervana™ AI Academy, this event helped AI developers and students increase their knowledge and learn how to put machine learning to use quickly, efficiently, and cost-effectively on Intel® architecture.The event showcased a keynote by Naveen Rao, fireside chats, and 12 technical AI demos from Intel as well as from the Intel® Software Innovator and Student Ambassador programs.

#WhatWeSolve
Intel Nervana's booth demonstrated real-life examples of how Intel is applying its technology to better communities (through humanitarian and conservation efforts) and gain a foothold in evolving industries such as healthcare, agriculture, and entertainment.
Until next time
Needless to say, The Artificial Intelligence Conference was a tremendous success bringing together over 1,500 AI innovators, analysts, scholars, and enthusiasts alike. In case you weren't able to secure a ticket for the San Francisco event, 2018 has four other opportunities to attend in person:
April 10-13: Beijing
April 29-May 2: New York City
September 4-7: San Francisco
October 8-11: London
For more information on the event series please visit The AI Conference website.
[1] * Copyrights and trademarks are properties of third parties